Einari, a Master of Science student, started his work at Valmet Automotive in spring 2022. With a major in supply chain management and a minor in information systems, Einari's studies have been a great support for succeeding in a variety of tasks. During the summer, he worked as a Sourcing Trainee in direct sourcing, which included maintaining supplier relationships and supporting his own team during the vacation period.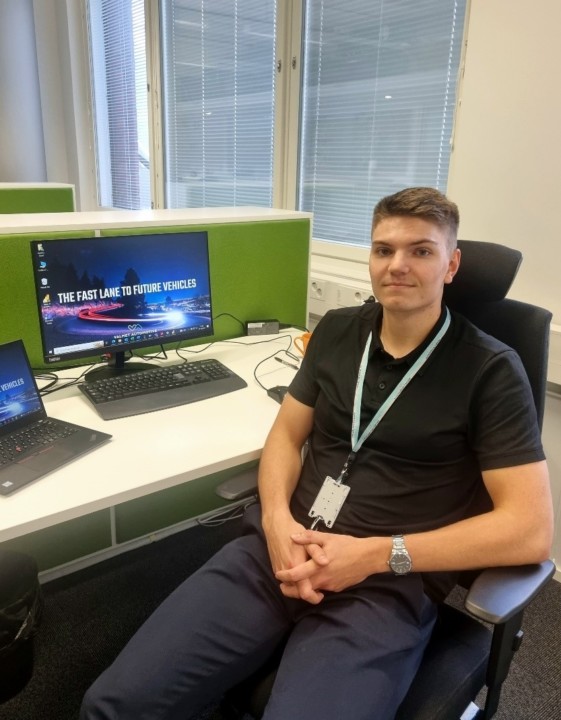 Einari was impressed by the various tasks over the summer and continued working part-time in the autumn alongside his studies. He currently works at Valmet Automotive a couple of days a week. Work days include, for example, following and maintaining contracts and price updates, as well as creating reports and monitoring costs. He feels that Valmet Automotive is an inspiring and motivating employer: a big company offering challenges and opportunities for personal development at the right mix.
"I've really liked the fact that the job description is clear, but at the same time, the tasks are very diverse. I also feel that I have gained a lot of successful experience working in an international environment," Einari says.
Einari encourages anyone looking for a traineeship to apply to Valmet Automotive because he believes that the company offers trainees a developing and inspiring working environment, where they can always get help and support from their colleagues. Einari sees the CEO Olaf Bongwald's frequent use of the phrase "together we are strongest" in the work of the company's employees.
"Apply with an open mind for vacancies. A job advertisement can certainly tell you something about the job and the workplace, but Valmet Automotive offers much more than what a written job advertisement suggests," Einari says.
Summer trainees are again being sought for the locations in Uusikaupunki, Salo, and Turku. As in previous years, you will find a variety of tasks, a supportive working atmosphere, and a unique working environment in the automotive and battery industry. Join us in building solutions for the future vehicles!