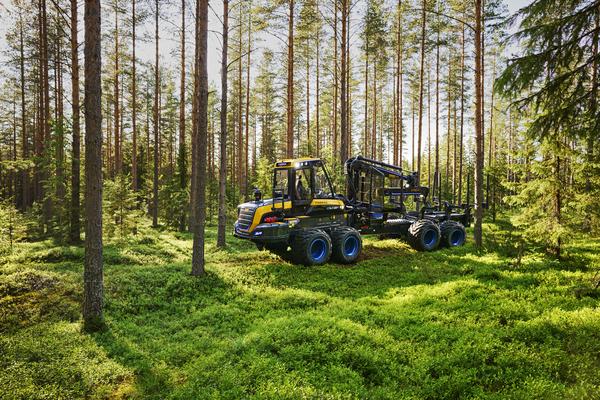 Valmet Automotive supplies the battery system to the new electric Ponsse EV1 forest machine technology concept. The battery system designed and manufactured by Valmet Automotive is implemented into the EV1 in cooperation with Ponsse's technology company Epec, which is responsible for the design and construction of the concept's electric powertrain.
Valmet Automotive's battery business has grown significantly in recent years both as a contract manufacturer and as a Tier-1 system supplier for the automotive industry. In the system supplier role, the company has expanded its offering to meet the needs of both bus & truck industry and various off-highway categories, including mobile work machines.
The battery system in the Ponsse EV1 electric forest machine technology concept uses the Modular Power Pack introduced by Valmet Automotive last year as a first product of its Modular Battery Platform, that also includes a Power Distribution Unit. The EV1 technology concept uses a high-voltage system application of the Modular Battery Platform.
The battery system is based on an advanced cell-to-pack concept with high power density. With the durable and safe LTO cells, the battery system is optimized for applications that require high peak power, fast charging, and long cycle life. The Modular Power Pack is a flexible and modular battery product, developed especially considering the requirements of mobile work machines.
Valmet Automotive's battery system is designed to perform in harsh and even very low-temperature operating environments, and it reduces the CO2 emissions of the work machine significantly. Ponsse has been testing the functionality of the system with excellent results in various environments already for over a year.
– The cooperation with Valmet Automotive has been excellent in the EV1 project. The development of an electric forest machine equipped with a diesel generator is a demanding project. Our close cooperation with Valmet Automotive has significantly facilitated the integration of the battery system and accelerated the completion of the EV1 concept, says Jyri Kylä-Kaila, Managing Director, Epec.
– Electric powertrains are the future of forest machines. Electrification is sustainable development that enables considerable reductions in CO2 emissions. For Valmet Automotive, cooperation with Epec is an opportunity to participate in the product development of the world's leading forest machines, says Jyrki Nurmi, Senior Vice President EV Systems, Valmet Automotive.
Ponsse provides sustainable harvesting solutions by listening to customer needs, and it aims to lead the way in the development of forest machine technologies. Ponsse is part of sustainable forestry and seeks carbon neutrality in its operations and solutions. Ponsse's launch of a new technology concept is part of the company's strategy and a tangible step towards the goal of carbon neutrality. Sustainable development guides all the company's operations.
Valmet Automotive will be presenting its battery system and long-standing cooperation with Epec at Finland's largest heavy machinery trade fair FinnMETKO 2022 in Jämsä, September 1–3, 2022 at the Epec stand.
Additional information:
Mikael Mäki, Manager, Corporate Communications, Valmet Automotive
+358 50 317 4308
mikael.maki@valmet-automotive.com
Image bank available at https://www.valmet-automotive.com/media/
Facebook   LinkedIn   Twitter   YouTube
The Valmet Automotive Group is a leading European manufacturer of electric vehicle battery systems and automotive kinematic systems (including electric vehicle charging flaps and active spoilers) for OEMs, as well as being one of the largest vehicle contract manufacturers in the world. In its strategic development, Valmet Automotive Group focuses on electromobility through the development and manufacturing of battery modules as well as packs for electrified vehicles. The activities in the group are organized in three business lines: Manufacturing, EV Systems and Roof & Kinematic Systems. Since its founding in 1968, Valmet Automotive has produced more than 1.7 million vehicles at its plant in Uusikaupunki, Finland. Valmet Automotive also operates two battery systems plants in Salo, Finland and Uusikaupunki, Finland. A third battery plant in Kirchardt, Germany, will start production in 2022. The company has locations in Finland, Germany, and Poland. Valmet Automotive's largest shareholders are state-owned Finnish investment company Tesi and the Pontos Group, each with a stake of 38.46 %. 23.08 % is held by the Chinese Contemporary Amperex Technology Limited (CATL), the world leading manufacturer of battery cells for electric vehicles.