Valmet Automotive employs nearly 80 summer trainees during the summer. In this blog post, we get to know Chris, a summer trainee in the manufacturing business line's product management team at the Uusikaupunki plant.
Chris has graduated from the UCD Michael Smurfit Graduate Business School, Ireland, as a Master of Business and finance. After his graduation, Chris moved to Finland and applied to Valmet Automotive as a trainee at the end of 2021. He got accepted as a trainee in the product management team and now Chris has been working in the company for about 6 months. Chris has a very versatile job description, with responsibilities including market research analysis of the e-vehicle market.
"Market research covers a wide range of topics, but focuses on monitoring trends, production volumes, current economic and political situations," Chris says.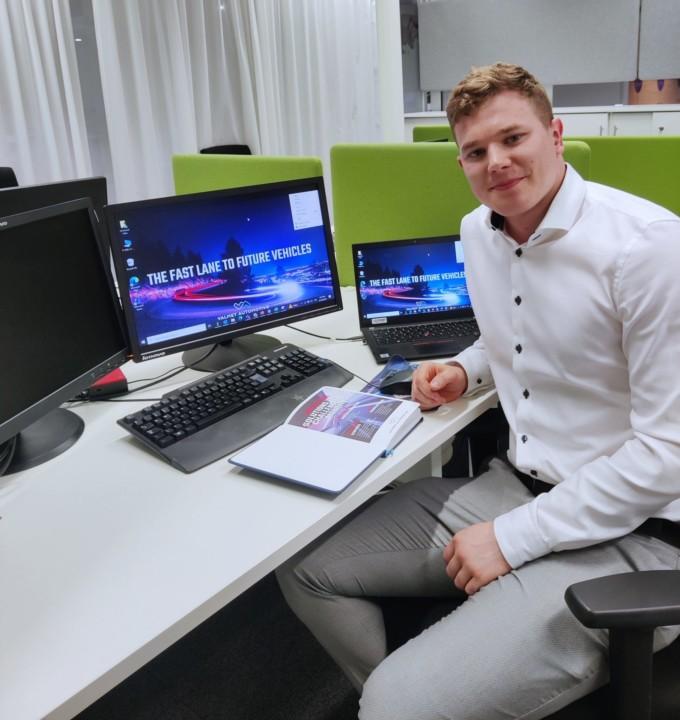 "VA has created a corporate culture that supports the work of both teams and individuals. Flexibility and options in the way you work, as well as a rewarding and engaging work make VA an excellent place to build a career".
Prior to his work at Valmet Automotive, Chris did not have an idea of how complex the vehicle manufacturing process is and how all departments work together to achieve the common goal. When Chris saw the premises and carefully thought-out production lines of the VA plant, he was extremely impressed.
"When I saw the vast halls and production lines of VA production, with their extreme detail and attention to detail, I really was in awe."
Chris thinks the best thing about his work is definitely the opportunity to work in various departments on different projects and tasks and to meet many interesting and fascinating people.