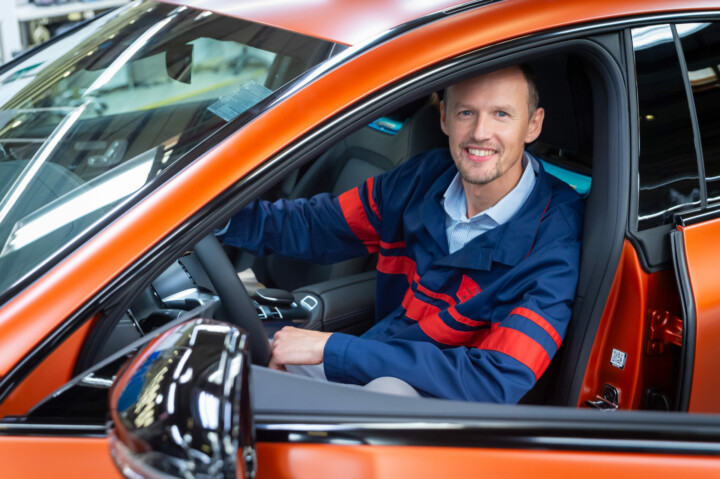 For Juri, who works as a Senior Project Manager in the Project Management Office of the vehicle contract manufacturing (VCM) business line, customer and project work is at its best a fun but effective team effort, where everyone is committed to common goals. Years of experience and profound expertise led to his most recent career achievement, leading the Mercedes-AMG GT 4-Door Coupé project that reached the series production in October. However, working with Mercedes-Benz was nothing new for Juri.
I have been working for Valmet Automotive for 11 years in various positions. When I joined the company, I started as a project engineer and senior project engineer in the production engineering of the body shop until 2019, when I moved to our project management department. Since then, I have been working in several customer projects, both in the vehicle and battery systems business lines. For example, I have been involved in all Valmet Automotive's vehicle manufacturing projects for Mercedes-Benz. The customer appreciates the cooperation with our company and the fact that we are always one step ahead. In addition, the customer has given positive feedback on how smooth and easy it is to work with us, says Juri.
MY CAREER PATH TO PROJECT WORK PROFESSIONAL
Since graduating with a degree in Mechanical and Automation Engineering, Juri's career has taken him to many companies and countries, gaining experience in a variety of industries. A progressive work ethic and a desire to achieve more have brought him opportunities where challenges are not obstacles. Positive attitude and courage also secured the job at Valmet Automotive.
Process expertise and technical knowledge, combined with a particular desire to develop project management, has driven his career in a certain direction.
Originally, my dream was the IT sector, but the direction changed by education in mechanical and automation engineering and later also career vise. One of the best things about my job at Valmet Automotive has been the opportunity to develop and challenge myself. In all projects, together with the project team, I have experienced successes and achievements, and these should be the particular focus in the development and management of project work. Team spirit and communication, within the project team and with the customer and other stakeholders, are important. In project work, team members support and help each other even in difficult and intense moments under time pressure.
In project work, Juri finds it particularly rewarding to achieve challenging goals with the organization and the team. This allows for effective interaction, professional development, freedom to make decisions and receive and give positive feedback.
In my work, I can implement the company's strategy and enable growth. Project work requires a proactive attitude, responsibility, problem-solving and decision-making skills, as well as commitment. A willingness to understand cause and effect and to learn new things are also qualities that benefit working with projects.
VALMET AUTOMOTIVE OFFERS GROWTH OPPORTUNITIES IN INTERNATIONAL ENVIRONMENT
Our company offers a wide range of opportunities for professionals from all over the world, employing production workers and specialists in three countries, Finland, Germany, and Poland. Our corporate culture is committed to respect, development, continuous learning, accountability and delivering on our promises. Well-being both at work and in leisure time comes above all from balance.
My work-life balance is achieved by spending time with my family. I also spend my time with a variety of hobbies like different sports but also music, reading and photography. The best things in life are the moments when I feel happy.
Juri sends his greetings to all those who are considering Valmet Automotive as an employer in the future:
We are a unique company in our industry worldwide. With us, you can learn a huge range of skills across the entire value chain and become a world-class expert in manufacturing and e-mobility solutions. We are an international and multicultural working community, where growth opportunities are a great advantage for the prospects in our industry. Valmet Automotive's slogan, Fast Lane to Future Vehicles, is in fact reflected in our daily work in many ways.
The Valmet Automotive Group employs around 4,100 people worldwide in three business lines: Vehicle Contract Manufacturing (VCM), EV Systems (EVS) and Roof & Kinematic Systems (RKS). We are one of Europe's leading system suppliers of battery systems and kinematic solutions for electric vehicles and one of the world's largest vehicle contract manufacturers, having produced more than 1.8 million vehicles at our car plant in Uusikaupunki, Finland. We work with a green attitude and are certified by the classification society DNV for carbon neutrality in our own operations in January 2022.
Careers for those who prefer the fast lane.