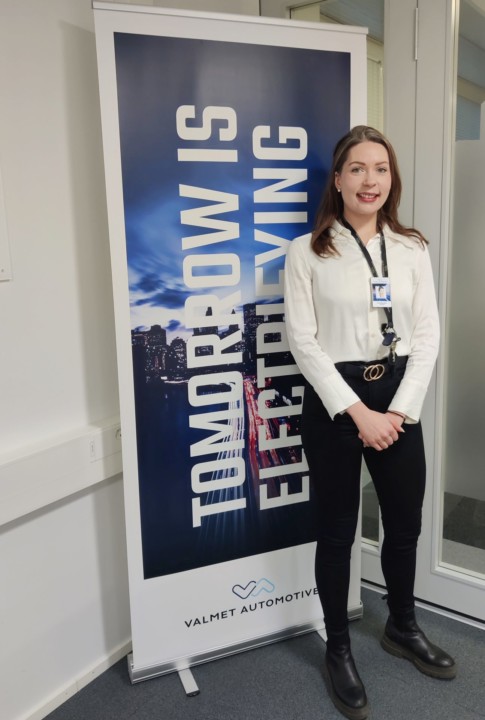 Ira Silvendoin, currently acting as HR Director of the vehicle contact manufacturing business line, arrived at Valmet Automotive as a trainee in 2017. At the time, she studied marketing and management at the School of Economics. As the traditional marketing-oriented work did not inspire Ira, she decided to look at her job opportunities on a slightly wider scale. She, therefore, applied for HR tasks and got a job at VA. The summer was spent working in the recruitment team on support tasks, recruitment coordination, and payroll administration.
After the summer, she continued working part-time alongside her studies and later also started writing her thesis. Ira did her thesis as an assignment for VA on the employer brand and when she was in the final stages of her studies, she was offered a permanent job as a Talent Management Specialist.
"As a Talent Management Specialist, I conducted recruitment and trainee programs, among other things. In addition, as a new regional power, I brought to VA institutional cooperation, which I worked on and participated in various projects."
A couple of years later, Ira took over the development of the management team and internal communication. In 2022, Ira was given the opportunity to lead the car plant's HR function, which she took up.
Being open-minded can offer interesting job opportunities and great colleagues
For Ira, the best part of her job is creating and developing new things. She also describes the people she gets to work with as an absolute bonus. She describes Valmet Automotive as a "peer promoter" and a "community supporter" Ira explains her words as follows:
"At Valmet Automotive, community support means that you can always ask anyone for help. By peer promoter, I mean that there is a real opportunity to learn. For example, trainees get responsibility, their own tasks, and sub-entities that they can work on independently. You are encouraged, maybe even dared, to do your own thing."
Ira encourages people looking for a traineeship to be open-minded. She urges people to look "outside the box", in other words, to look at jobs and fields that might not be the first thing on their minds when it comes to their own field of study. She encourages people not to be afraid of the car industry, for example, even if they know nothing about cars. There are different types of jobs and you will learn everything you need to know! Ira also advises that when applying for jobs, it's a good idea to express your own motivation for a particular job. It gives you a chance to stand out from the crowd.
"When you have motivation and open-mindedness, you can usually go a long way in the application process!"
Summer trainees are again being sought for our locations in Uusikaupunki, Salo, and Turku. As in previous years, you will find a variety of tasks, a supportive working atmosphere, and a unique working environment in the automotive and battery industry. Join us in building solutions for future vehicles!