Valmet Automotive supports career development. In this blog, we get to know Meeri Filppula, a production manager in the assembly shop of the Uusikaupunki car plant, and her career path within our company.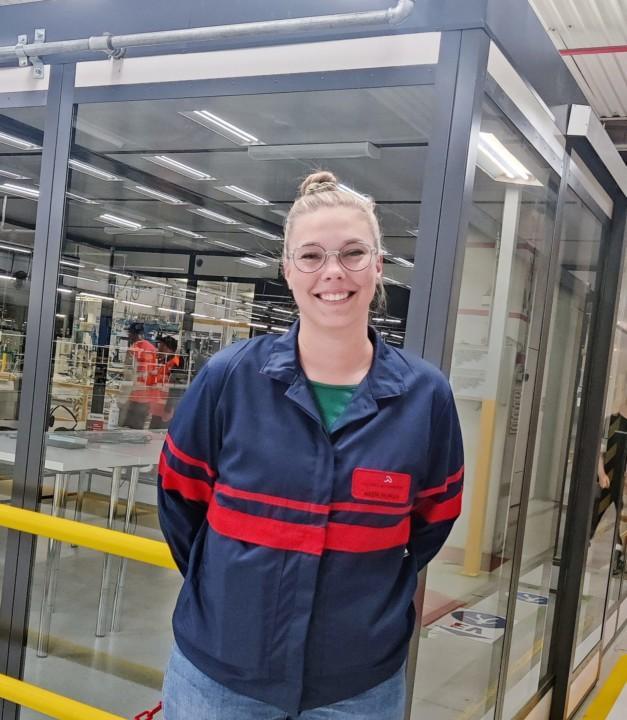 Before coming to Valmet Automotive Meeri did not yet know what she wanted to do for a living. Meeri has gained work experience in both the food and healthcare sectors before coming to the car plant. A friend's tip led her to Valmet Automotive.
"A good friend of mine was working in the body shop and gave me a tip that the company was recruiting big time. I immediately took action and sent an application. Within two weeks of sending in my application, I was already in the VA training. And I am still on that path."
Meeri started as an assembler at Valmet Automotive in 2014. An assembler's work includes equipping and finishing the car, which requires a precise and high-quality approach to work. Meeri later progressed from assembler to substitute and then to team leader. In the role of a substitute, you get to do a more comprehensive range of tasks along a particular line. As a team leader, you manage the work of a team according to agreed responsibilities and policies to deliver the desired product. In 2019, Meeri took up the position of area manager in the paint shop, and in this position, she had the opportunity to work on many tasks. Among other things, she was responsible for the front-end and back-end operations in the paint shop, trained new managers, and supported other managers in the paint shop as needed.
"I enjoyed this job a lot, as each day included some familiar routines, but also a lot of new ones regarding the process steps in the department. I didn't have to think about what to do during the day."
This year, Meeri was again given the opportunity to advance her career and was appointed to the role of production manager in the General Assembly.
"You get work experience if you're willing to do the work, are interested, dare to try out new things, and push your own limits," Meeri says.
Meeri praises Valmet Automotive as a versatile and enabling employer. She feels that a large company can provide a variety of career paths in a way that is not necessarily possible for smaller companies. She also appreciates the company's multicultural workforce and sees this as very educational.