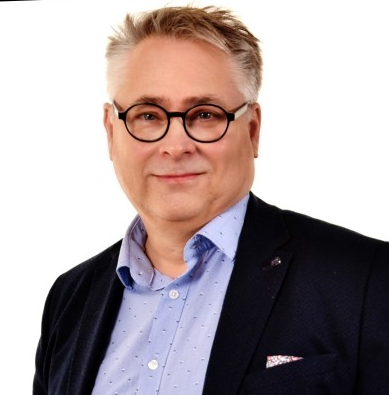 The Leader of the Year award of Turku School of Economics' Management Training Unit has been presented to Kimmo Suupohja, Managing Director of Valmet Automotive's battery plant in Salo. Kimmo received this award at the Management Training Unit's Top Management Forum on March 7. The annual award highlights the importance of good leadership, and its characteristics, and encourages leaders to continuously develop themselves.
The jury drew attention to Kimmo's long career with people.
– Kimmo Suupohja is an inspiring leader who gently shakes up everyday operations, stimulates the ideas of his subordinates, and encourages his team to move forward with courage and confidence in the future, says Ulla Heinonen, Director of TSE Exe, a management training unit at the Turku School of Economics.
At the age of 15, Kimmo worked as a summer worker at a shipyard, where he saw room for improvement in the working environment. This sparked his interest in process improvement. Later, in various hands-on work, Kimmo learned how people think and how working life works. He got his Master's degree in engineering from Tampere University of Technology in 1988. At 28, Kimmo became a unit manager in a 400-person foundry in Pori. From there he moved on to the Turku TV factory, where he was Quality and Production Manager and finally Managing Director. At the turn of the millennium, Kimmo worked as Nokia's global Quality Manager until 2007, when he joined Hella as Plant Manager for 11 years.
– The last two years were spent on a transformation project to move production to Romania. It was a time when I could use all the people skills I had accumulated over the years. The changeover's objectives, schedule, and budget still kept people's emotions in mind," says Suupohja. This period was also highlighted in the selection process for the Leader of the Year award.
In the ideology of leadership, he highlights his long-time hobby of scuba diving.
– I am also a trainer of diving instructors. When diving, you really have to pay attention to how you get people to learn and how they behave in different situations, including in a crisis. I like to be open and approachable, more of a listening leader than a talking leader. I have been mentoring people in different fields for 14 years and I have learned a lot about leadership and how to meet people, and how to build mutual trust and a healthy belief in your own competence. I believe that everything we do has a good purpose, but sometimes it can turn into shouting or complaining. It is good to stop and think about what you are trying to achieve with that behavior.
Good management is all about people. Kimmo says that results are achieved by people, not machines or software.
– I've learned to know the people around me and find where each person can show their skills. When people are happy, the sky's the limit in what they can do. Problems, on the other hand, arise from blaming, self-absorption, and the struggle between activities. The surest way to kill creativity and enthusiasm is micromanagement. A good leader must trust people, and give support when needed. The most important task of a manager is to show direction, ignite the enthusiasm of talented people and, if necessary, support them on their way to a common goal.
In March 2022, Kimmo took over as managing director of the battery plant in Salo. Kimmo says that he has a good, international, and competent team at the battery plant. There is still a lot to do, but the people are motivated and enthusiastic, and if challenges arise, an open discussion can always find out what is wrong.
– One of the Salo plant's themes this year is continuous improvement. We must not become complacent that things are good. We can improve and be better every day by listening to each other and working together.