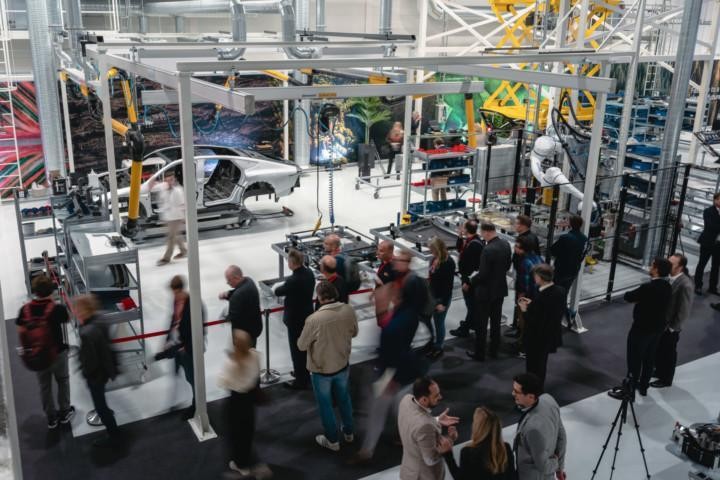 Valmet Automotive has today started the series production of the Lightyear 0, the first true solar electric vehicle, at the Uusikaupunki, Finland plant. The Start of Production event was honored by more than 100 invited guests, international media, and top management of both Lightyear and Valmet Automotive at the plant.
Lightyear 0 is a vehicle that paves the way to the transformation of mobility. Lightyear, the Dutch high-tech company, has created this highly efficient vehicle that enables consumers to drive more sustainably and to skip the charging grid. This milestone writes history as the Lightyear 0 is the first solar electric vehicle (SEV) to enter series production.
Valmet Automotive has constructed brand-new production facilities for the vehicle. The assembly line for the Lightyear 0 features state-of-the-art technological solutions, with an overarching focus on work safety and ergonomics. With Lightyear, Valmet Automotive has also trained a dedicated production team to ensure a smooth production start with the highest level of quality.
The speeches given in the Start of Production event emphasized the excellent cooperation Valmet Automotive and Lightyear have shared, the speed and high quality of results, and the sustainable approach to mobility that both the vehicle and the production process behind it present.
– Today is the most significant, and probably the most challenging, milestone we have reached so far. Starting production of the Lightyear 0, the first solar car, brings us a big step closer to our mission of clean mobility for everyone, everywhere, said Lex Hoefsloot, CEO, and co-founder of Lightyear.
– We share Lightyear's motivation for creating new, more sustainable mobility solutions and we are excited to be part of this innovative development in the automotive industry right now. We have been working closely together to prepare for smooth production of these unique solar electric cars, said Olaf Bongwald, CEO, Valmet Automotive.
Valmet Automotive announced its manufacturing contract with Lightyear in July 2021. Co-operation with Lightyear is a perfect fit with Valmet Automotive's ambitions in vehicle manufacturing, with focus on e-mobility and sustainability. The Lightyear co-operation also leads the company to the cutting-edge of EV manufacturing technology and know-how     .
Additional information:
Mikael Mäki, Manager, Corporate Communications, Valmet Automotive
+358 50 317 4308
mikael.maki@valmet-automotive.com
Image bank available at https://www.valmet-automotive.com/media/
www.valmet-automotive.com
Facebook   LinkedIn   Twitter   YouTube
The Valmet Automotive Group is a leading European manufacturer of electric vehicle battery systems and automotive kinematic systems (including electric vehicle charging flaps and active spoilers) for OEMs, as well as being one of the largest vehicle contract manufacturers in the world. In its strategic development, Valmet Automotive Group focuses on electromobility through the development and manufacturing of battery modules as well as packs for electrified vehicles. The activities in the group are organized in three business lines: Manufacturing, EV Systems and Roof & Kinematic Systems. Since its founding in 1968, Valmet Automotive has produced more than 1.8 million vehicles at its plant in Uusikaupunki, Finland. Valmet Automotive also operates two battery systems plants in Salo, Finland and Uusikaupunki, Finland and a third in Kirchardt, Germany. The company has locations in Finland, Germany, and Poland. Valmet Automotive's largest shareholders are state-owned Finnish investment company Tesi and the Pontos Group, each with a stake of 38.46 %. 23.08 % is held by the Chinese Contemporary Amperex Technology Limited (CATL), the world leading manufacturer of battery cells for electric vehicles.