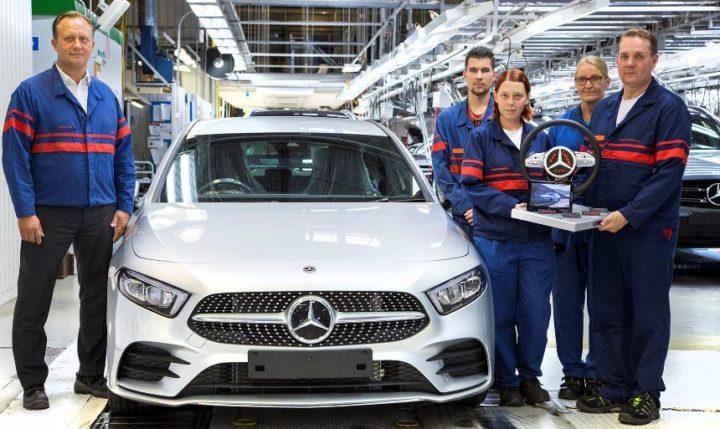 Valmet Automotive has started the production of the new, 4. generation Mercedes-Benz A-Class today at the Uusikaupunki, Finland, plant according to the production schedule. Previously, the new A-Class production has been started at Mercedes-Benz plants in Rastatt, Germany and Kecskemét, Hungary.
Valmet Automotive manufactured also the previous A-Class generation, which has limited the need of changes in the Uusikaupunki production facilities. Most changes are implemented in the body shop, where all manual workstations are robotized. The number of body shop robots is increased to 223 and the automation level to 95%.
In the paint shop and general assembly, the changes target at securing the capacity to the simultaneous production of the A-Class and the GLC, and at improving ergonomics, work safety and productivity. The new A-Class will employ around 500 new carbuilders at the Uusikaupunki plant in addition to the current more than 4000 employees.
– In order to ensure a fast market launch and high number of units, we have prepared intensively for the launch of the new A-Class. We have also benefited from our experiences with the previous A-Class generation and the GLC, says Pasi Rannus, SVP Manufacturing business line, Valmet Automotive.
– With the ramp-up of the new A-Class in Uusikaupunki, Finland, we are successfully continuing our unrivalled ramp-up cascade. Within a very short time, our production strategy has enabled us to master the third successful ramp-up of the new A-Class, says Markus Schäfer, Member of the Divisional Board of Mercedes-Benz Cars, Production and Supply Chain.
The A-Class production start was celebrated with a VIP event at the Uusikaupunki plant.

Additional information:
Communications manager Mikael Mäki
tel. +358 20 484 8011
mikael.maki(at)valmet-automotive.com
www.valmet-automotive.com and Facebook,   LinkedIn,   Twitter,   YouTube
Valmet Automotive is an experienced provider of automotive engineering, vehicle manufacturing, battery systems and convertible roof systems. Our special areas of expertise are premium cars, electric vehicles and convertibles. We employ 6000 professionals in Finland, Germany, Poland and Spain.