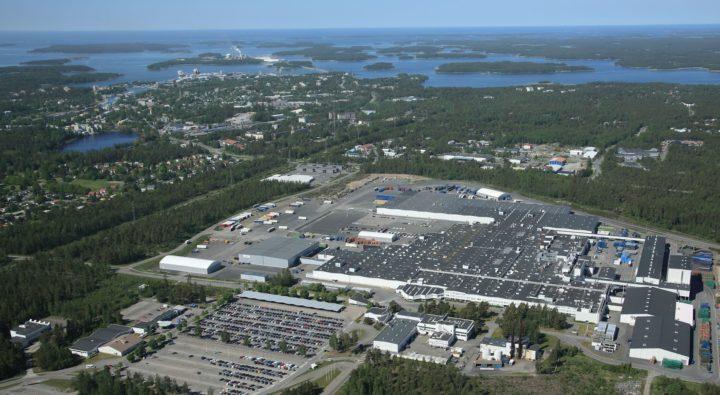 Valmet Automotive has signed a binding term sheet on solar electric vehicle manufacturing with Sono Motors, the German-based technology company. The cooperation contains the manufacturing of the Sion model, a full electric vehicle with fully integrated solar cells for a period of 7 years. The production is scheduled to start in the second half of 2023 in Uusikaupunki, Finland.
Sono Motors and Valmet Automotive have agreed that from 2023 onwards, Valmet Automotive will provide the capacity to manufacture 257,000 vehicles over a seven-year period. The aim is to ramp-up production to a volume of approximately 43,000 vehicles per year, using one hundred percent renewable energy.
The Sion Solar Electric Vehicle (SEV) is a full electric car with an outer shell consisting of 456 integrated solar half-cells and will enable self-sufficiency on short journeys. The energy generated by the solar cells will extend the estimated 305 km range of the Sion's 54 kWh LFP battery by an average of 112 km (up to 245 km) per week.
Bidirectional charging technology complements the car's solar integration and is designed to turn the Sion into a sustainable power plant on wheels that will be able to power electronic devices, the home or other electric cars with an output of up to 11 kW.
– The cooperation marks another milestone towards delivering the Sion to our growing Community. We're convinced that collaborating with such a reliable and experienced partner is an excellent match for bringing the Sion to the streets, while securing high quality standards. We value Valmet Automotive's experience in manufacturing premium automobiles and their proven track record in electromobility, says Laurin Hahn, CEO and co-founder of Sono Motors.
Valmet Automotive focuses on e-mobility and sustainability in its strategy, and co-operation with Sono Motors meets these targets ideally. Valmet Automotive is an EV pioneer, with the first EV in series production in 2009. The co-operation with Sono Motors will further extend Valmet Automotive's knowhow and capabilities in EV manufacturing.
– The cooperation with Sono Motors is a perfect fit with Valmet Automotive's strategy, capabilities, and sustainable approach. With the innovative solar electric Sion, we are expanding our full electric vehicle manufacturing to the next level in Uusikaupunki. We look forward to supporting Sono Motors to their targets in solar-powered electromobility, says Olaf Bongwald, CEO, Valmet Automotive.
The Sono Motors company was founded in 2016. Sono Motors is a subsidiary to Sono Group N.V. a listed company at the U.S. based technology stock exchange NASDAQ.
Additional information:
Mikael Mäki, Manager, Corporate Communications, Valmet Automotive
+358 50 317 4308
mikael.maki@valmet-automotive.com
Frank Volk, Senior Manager, Corporate Communications, Valmet Automotive
+49 172 378 1569
frank.volk@valmet-automotive.com
Image bank available at https://www.valmet-automotive.com/media/
www.valmet-automotive.com
Facebook   LinkedIn   Twitter   YouTube
The Valmet Automotive Group is one of the largest vehicle contract manufacturers in the world, Tier 1 systems supplier for convertible roof and kinematic systems and for battery systems. In its strategic development, Valmet Automotive Group focuses on electromobility with the development and manufacturing of battery modules as well as packs for electrified vehicles. The activities in the group are organized in three business lines: Manufacturing, EV Systems and Roof & Kinematic Systems. Since its founding in 1968, Valmet Automotive has produced more than 1.7 million vehicles at the Uusikaupunki, Finland plant. In Salo, near the Uusikaupunki plant, Valmet Automotive opened its first volume production of battery systems for the automotive industry in autumn 2019. The company has locations in Finland, Germany and Poland. Valmet Automotive's largest shareholders are state-owned Finnish investment company Tesi and the Pontos Group, each with a stake of 38.46 %. 23.08 % is held by the Chinese Contemporary Amperex Technology Limited (CATL), the world leading manufacturer of battery cells for electric vehicles.
Sono Motors is on a pioneering mission to accelerate the revolution of mobility by making every vehicle solar. Its disruptive solar technology has been developed to enable seamless integration into all types of vehicles to reduce the impact of CO2 emissions and pave the way for climate-friendly mobility.
Sono Motors is developing the world's first solar electric vehicle (SEV) for the masses, the Sion. Empowered by a strong community, Sono Motors has amassed more than 16,800 reservations with advance payments for the Sion. These vehicles will be produced through contract manufacturing.
Sono Motors' proprietary solar technology has been engineered to enable integration and licensing for a wide range of vehicle architectures that go far beyond the Sion, such as buses, trailers, trucks, camper vans, trains and boats.