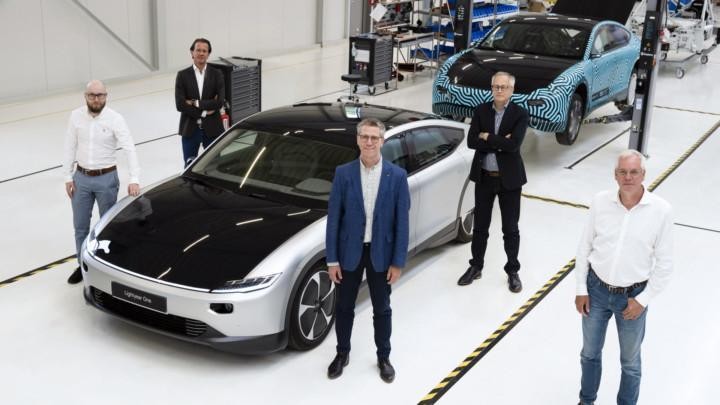 Valmet Automotive has signed a letter of intent on vehicle manufacturing with Lightyear, the Netherlands-based technology company. The contract contains the manufacturing of the Lightyear One exclusive series, a uniquely designed electric vehicle with integrated solar cells. The production is scheduled to start in 2022 in Uusikaupunki, Finland.
The Lightyear One model features a unique energy-efficient design with integrated solar cells to eliminate the main concerns for electric cars, charging and range. Lightyear recently achieved an important technology milestone by driving 710 km of range with its Lightyear One prototype car, demonstrating the long-range performance and validating their in-house developed technology. The Lightyear company was founded in 2016 and employs currently more than 200 employees.
Co-operation with Lightyear meets perfectly Valmet Automotive's ambitions for new vehicle manufacturing, as the company's strategy focuses on e-mobility and emphasizes sustainability. Valmet Automotive is an EV pioneer, with the first EV in series production already in 2009. The co-operation with Lightyear will lead the company to the cutting-edge of EV manufacturing technology and knowhow.
The manufacturing contract will be for a limited, exclusive series of model Lightyear One. The production requires a new, model-dedicated assembly line, and the production is scheduled to start in the first half of 2022.
– Two years ago, we announced our prototype Lightyear One. We are really excited to have found a production partner with whom we will manufacture this exclusive model. Valmet Automotive is a great partner, has a well-established track record and over a decade of experience in EV production. It's also a good cultural fit with our company, says Lex Hoefsloot, CEO and co-founder of Lightyear.
– Our experience as a car manufacturer as well as our focus on electric mobility and battery systems make us predestined for processes in which mobility must be redefined. We are ready to enter new areas in manufacturing cars and are therefore pleased that Lightyear has selected us as their production partner, says Olaf Bongwald, CEO, Valmet Automotive.
Lightyear and Valmet Automotive aim to conclude the contract manufacturing agreement regarding the cooperation outlined in the letter of intent during August.
Additional information:
Frank Volk, Senior Manager, Corporate Communications, Valmet Automotive
+49 172 378 1569
frank.volk(at)valmet-automotive.com
Image bank available at https://www.valmet-automotive.com/media/
www.valmet-automotive.com
Facebook   LinkedIn   Twitter   YouTube
The Valmet Automotive Group is one of the largest vehicle contract manufacturers in the world, Tier 1 systems supplier for convertible roof and kinematic systems and for battery systems. In its strategic development, Valmet Automotive Group focuses on electromobility with the development and manufacturing of battery modules as well as packs for electrified vehicles. The activities in the group are organized in three business lines: Manufacturing, EV Systems and Roof & Kinematic Systems. Since its founding in 1968, Valmet Automotive has produced more than 1.7 million vehicles at the Uusikaupunki, Finland plant. In Salo, near the Uusikaupunki plant, Valmet Automotive opened its first volume production of battery systems for the automotive industry in autumn 2019. The company has locations in Finland, Germany and Poland. Valmet Automotive's largest shareholders are state-owned Finnish investment company Tesi and the Pontos Group, each with a stake of 38.46 %. 23.08 % is held by the Chinese Contemporary Amperex Technology Limited (CATL), the world leading manufacturer of battery cells for electric vehicles.
Lightyear
Lightyear is on a mission to make clean mobility available to everyone, everywhere. Lightyear aims to eliminate the two biggest concerns for electric cars – charging and range – with an energy-efficient design and integrated solar cells. This allows motorists, depending on the climate, to drive up to twenty thousand kilometres per year on the power of the sun. The fast-growing company was founded in 2016 and currently employs more than two hundred employees. The team is made up out of a mix of young talent and experienced names from the automotive industry, including former employees of Tesla, Jaguar Land Rover, Audi, McLaren and Ferrari. In 2019, Lightyear received the Horizon 2020 grant from the European Commission under grant agreement number 848620. In the summer of 2019, Lightyear launched its first driving prototype, Lightyear One, and opened a new office in the region of Brainport Eindhoven. The prestigious TIME Magazine acknowledged Lightyear One as one of the '100 best inventions' of 2019. In 2020, Lightyear won the 'Rising Star' and 'Most Disruptive Innovator' Award of the Technology Fast 50 program organized by Deloitte. The first model of Lightyear One will go into production in 2022 as an exclusive car series.
For interview requests and more information about Lightyear, please contact:
Tessa Dekkers or Iskander de Lange from LEWIS PR
+31 (0)40 235 46 00
press(at)lightyear.one