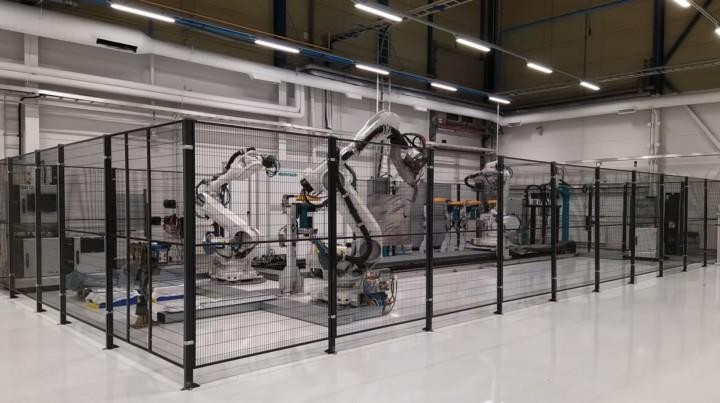 Valmet Automotive and Mapvision introduce a flexible welding cell demonstration that takes automotive manufacturing a major step towards a self-adjusting production process. The pilot welding cell was taken into use today in Valmet Automotive's new Innovation Center as a part of the company's Intelligent Manufacturing program.
Valmet Automotive's Intelligent Manufacturing program responds to the change in the automotive industry that is making the operating environment increasingly complicated and forecasting more difficult. The company is now creating solutions for more flexible manufacturing processes to ensure capacity optimization for a car plant of the future.
Valmet Automotive has set up an Innovation Center at the Uusikaupunki car plant to develop and pilot future solutions that will increase the company's ability to manufacture several products simultaneously, to utilize different processes to increase productivity and to better serve customers with different needs and requirements.
As part of the Intelligent Manufacturing program, Valmet Automotive and Mapvision, the expert of fully digital quality measurements based on a patented multi-camera inspection technology, have combined their expertise in the welding cell project. The result is a closed-loop welding cell without traditional jigs that offers much enhanced flexibility in manufacturing.
The focal point of the flexible welding cell is the Mapvision Smart Eye Cell solution that combines the company's multi-camera technology and advanced inspection software with new flexible hardware. The solution enables the robots to use the integrated inspection system for measuring the location and orientation of each component before welding and for checking the quality after every process stage.
As a contract manufacturer in automotive industry, Valmet Automotive needs to meet the customers' requests for flexibility, speed, and various production volumes. Replacing rigid, model-dedicated production lines with a network of flexible manufacturing cells enables a highly automated plant that adjusts according to the production requirements.
Additional information:
Mikael Mäki, Manager, Corporate Communications, Valmet Automotive
+358 50 317 4308
mikael.maki@valmet-automotive.com
Image bank available at https://www.valmet-automotive.com/media/
www.valmet-automotive.com
Facebook   LinkedIn   Twitter   YouTube
The Valmet Automotive Group is a leading European manufacturer of electric vehicle battery systems and automotive kinematic systems (including electric vehicle charging flaps and active spoilers) for OEMs, as well as being one of the largest vehicle contract manufacturers in the world. In its strategic development, Valmet Automotive Group focuses on electromobility through the development and manufacturing of battery modules as well as packs for electrified vehicles. The activities in the group are organized in three business lines: Manufacturing, EV Systems and Roof & Kinematic Systems. Since its founding in 1968, Valmet Automotive has produced more than 1.8 million vehicles at its plant in Uusikaupunki, Finland. Valmet Automotive also operates two battery systems plants in Salo, Finland and Uusikaupunki, Finland. A third battery plant in Kirchardt, Germany, will start production in 2022. The company has locations in Finland, Germany, and Poland. Valmet Automotive's largest shareholders are state-owned Finnish investment company Tesi and the Pontos Group, each with a stake of 38.46%. 23.08% is held by the Chinese Contemporary Amperex Technology Limited (CATL), the world leading manufacturer of battery cells for electric vehicles.
Mapvision enables the future of manufacturing by removing the need for human eye in quality inspection. Mapvision's 100% x 100% inspection solutions provide the fastest in-line quality inspection systems for​ complex components. We offer fully digital and absolute measurement of all features on all parts, in real-time, and our advanced analytics solutions make quality data easy to understand, from shop floor to the top floor. We are the eyes of smart factories.
https://www.mapvision.fi/blog/introducing-mapvision-smart-eye-cell