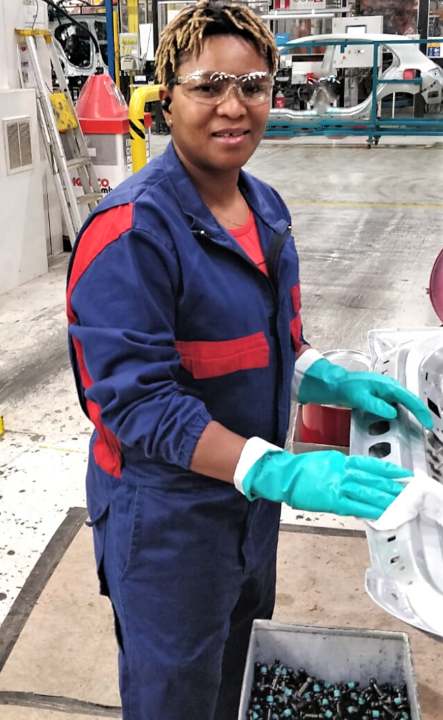 Working in the Valmet Automotive car plant is suitable for almost anyone. You do not need any field-specific training or previous experience, and not even skills in the Finnish language are necessary. Hope found a job for herself in the body shop at the car plant.
Hope started working at Valmet Automotive in 2018.  "I heard about Valmet Automotive from a friend of mine and decided to apply."
Since Hope does not speak Finnish as her mother tongue, it is a great opportunity to learn the language during working days. On the other hand, Hope's co-workers have had a great opportunity to increase their English language skills. "Valmet Automotive provides good opportunities to improve language skills", Hope notes.
Valmet Automotive uses two languages as an employer in Finland: the employee must have sufficient knowledge of either Finnish or English to perform work tasks. You can come and work here, even if you do not know a word of Finnish. "It's not a problem, even if you don't speak any Finnish. If something is difficult to understand, you can always ask your co-workers for help", says Hope.
What is the job of a body shop operator like?
"Getting started may seem challenging, but by doing you learn more all the time. Now the work is much easier than it was in the beginning", Hope states. "I think my daily job as an operator is nice, and it includes cleaning and maintaining the robot cell, loading the sheet metal parts into the robot cell magazine, and a lot more."
Valmet Automotive's body shop is almost fully automated, there are about 600 robots in there. The work of the on operator is quite independent. The task is to keep the robot cell in operation, so the tasks include, for example, monitoring the cell, troubleshooting, and reporting.
International environment and opportunities for those from different backgrounds
"The best thing about my job is that I have met many new people and made a lot of new friends. There is a great atmosphere in the body shop and the employees are highly motivated", Hope tells. Valmet Automotive has people from many different backgrounds and countries, in total there are more than 70 nationalities represented!
Hope recommends work at the car factory to anyone who is motivated and willing to commit to their work. "Everyone here is given the opportunity to work if only they want to."