Satish Kumar's road from India through several countries to Finland and Salo is full of degrees, and successes but also rising from a deep pit. The wife's support and encouragement have been worth their weight in gold, and the husband exudes enthusiasm for doing the work.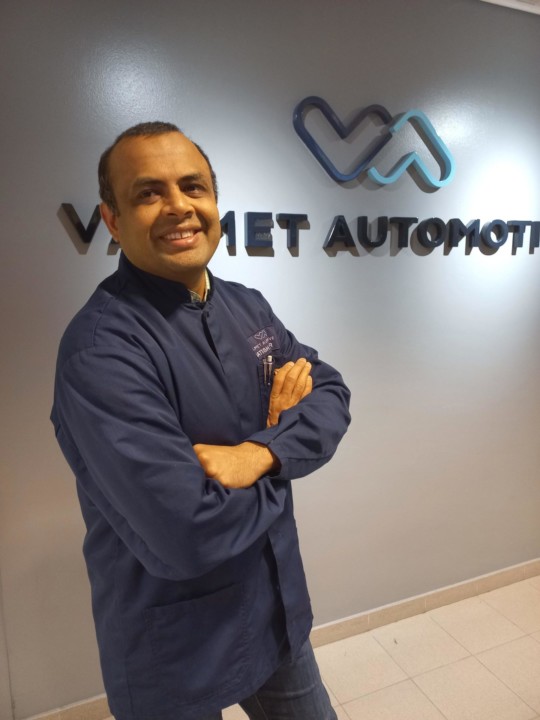 "I work at the Salo battery factory as a Senior Sourcing Engineer, and I started here about a year ago. I get to use my skills in a versatile way, face challenges and I am given the freedom to solve them," says Satish.
Satish is motivated by continuous self-improvement and the search for solutions. Kumar's family was brought from India via Poland and the USA to Finland by his wife's work at Nokia.
"My wife has a good career, and I have always found my place in her working life while being able to support her at the same time. In my own career, I have achieved successes, but also disappointments and bankruptcy. I had difficult years behind me when I got a job in the Salo battery factory line."
His wife who is currently in a senior role at Fortum asked Satish if he is ready to start again in a new place, and the answer was affirmative.
"I wanted to harness my strengths and quickly progressed from the line to customer projects. The good superiors, their trust in me, and the freedom earned through that boosted my self-confidence and I feel that I am doing important work for Valmet Automotive. I am proud that my skills are still in demand."
Satish has university studies in electronics, finance, and an MBA in business informatics, and he also has a Post Graduate teacher's qualification. He also sits on the Project Management Institute Finland chapter board as a Director of Administration. He is a certified  Project management and Six Sigma Black belt professional.
Sustainability projects have always been interesting to Satish. He considers the Salo battery factory a great place to work. In addition to the responsibility and freedom mentioned above, Valmet Automotive is a fascinating company in many ways.
"At Salo, I get to experience battery technology, which is new in the field, and that I can't get anywhere else. This is a unique opportunity to learn and get involved in the field of the future."
Satish's life has been full of surprises and changes in direction. One is permanent, and the relationship with the wife has remained good throughout the 20 years of marriage.
"My lesson to my two daughters is, you shouldn't take anything for granted in life, you must work for things. Education is the beginning and root of everything. The most important lesson for my children is to always be respectful and appreciative of other people, no matter the situation."