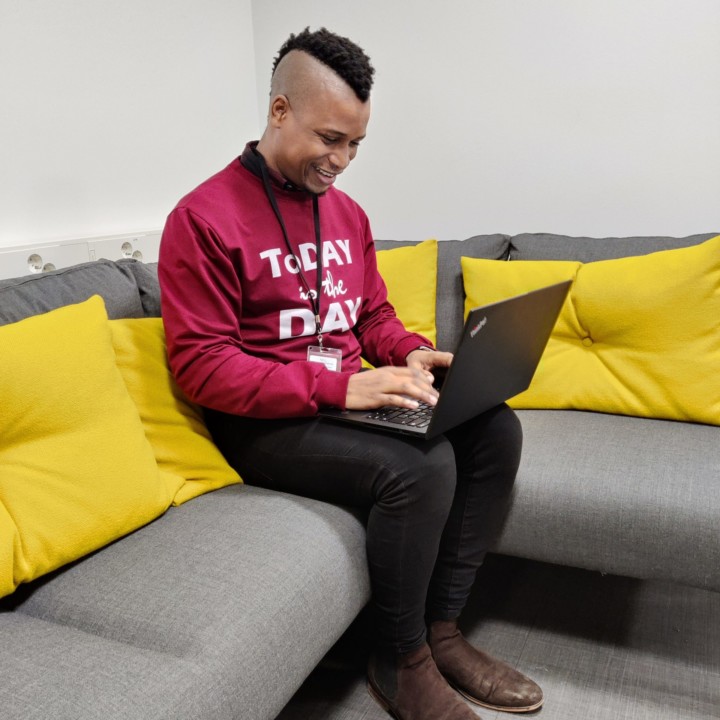 We have recognized that business process expertise is an important part of our future, and we also recognized that this expertise is available within our company. Last spring, we were looking for future talents for the ICT department of our company, when there was an internal career opportunity "From car builder to ICT Specialist", where participants can develop their skills and learn new things in fixed-term positions in information technology.
Out of several dozen talented applicants, 5 motivated individuals were selected for the ICT teams, all of whom found a new permanent job in the ICT sector through this career path. Rasberg Gwanzura works as a Junior Solution Specialist in our Business Systems Development team.
Career path to a solution specialist
Originally from South Africa, Rasberg has traveled a lot in his life and seen the world. The international schools have provided him with an environment where he has been able to meet many kinds of people. The education system is very different in Kenya, for example, where, after eight years of education (junior, middle, and senior school), he graduated with an A-level certification allowing him to continue his studies at a college or university.
Rasberg, who had studied history, literature, psychology and philosophy, then studied law for three years, but a year before graduating he changed his mind and went into a completely different field: sports. Six years were spent with martial arts and physiotherapy and studying the work of a fitness instructor.
In 2018 he moved to Finland and started studying engineering. At the same time, he ended up working alongside his studies with Valmet Automotive.
I used to be really bad at maths, but suddenly I realized I was really good at it. After eight months of integration training, I learned to speak Finnish and ended up applying to study engineering at Satakunta University of Applied Sciences (SAMK). However, I didn't enjoy being just a student and needed something else to do," says Rasberg.
From the very beginning, the intention was to move forward in his career and Valmet Automotive offered good opportunities for that. The work of an assembler in the assembly shop soon changed to quality control tasks, which included assemblers' training and reporting. Rasberg thinks it is important to do his job to the best of his ability. In addition, he has always got on well with colleagues and managers alike.
Balancing work and everyday life while working on shifts for the first time in my life was sometimes challenging, but I managed it well. I did my studies online, so it was easy and smooth to combine them with my work. I had gained process knowledge from my previous job at Amazon, so I feel it was even more helpful in my work here than in my studies," says Rasberg.
Mr Rasberg originally intended to become an automation engineer. He considers the ICT career path as a good stepping stone, and he has found in the opportunities it has given him much of what he had hoped for in his work. Therefore he has also updated his future career plans.
My work experience in production and my understanding of practical processes gave me an advantage when applying for my current career path as an ICT specialist. Robotics and mechanics have always interested me and currently, for example, I am building a drone with a friend. My current role is to understand different software and ensure its functionality while helping engineers in their work. In particular, the nature of the work, where understanding, solving, and solution-oriented cases force me to prioritize my own work, has taught me a lot. Although ICT may have initially been a stepping stone, this job has broadened my view of what I want to do in the future," says Rasberg, describing his career path.
Rasberg, who enjoys working in the ICT department and with his team, is happy with his job and will still continue to develop himself. The team provides him with the right amount of challenge and support. Discipline, commitment, and hard work pay off both at work and in his leisure time. He sees himself working at Valmet Automotive in the future, too. While he wants to increase his knowledge and skills in the coming years, he hopes to continue to take on more responsibility and to play a bigger role, for example in projects in projects he is already involved in. Career progression and experience will keep me constantly striving more.
Rasberg's positive outlook on life has led him to be brave enough to try new things and pursue his dreams. Failures are not a problem, but rather a chance to try things in a new way.
Valmet Automotive has plenty of opportunities and the only obstacle to progress is not trying. You can do it if you are motivated and willing to learn new things. Think about what you want, and what interests you, gain knowledge about it, and don't hold yourself back. Go for what you want; make a plan and go for it, Rasberg encourages everyone who is still thinking about their career.
Through in-house training and career paths, we want to offer our personnel the opportunity for self-development and career growth. Together we create the future!