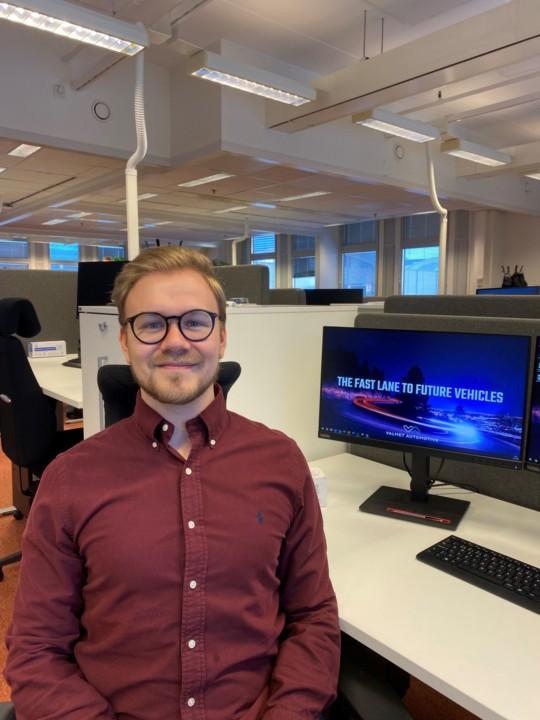 Among other things, a varied job description, internationality, and a supportive and constructive atmosphere are the things that Pekka mentioned as the best things about his job at Valmet Automotive. He adds that a growing company also guarantees practically endless opportunities for development. Pekka works as a project coordinator in the Production planning and launch management team and is finishing his studies in Production Economics at the University of Applied Sciences.
"I started in summer 2020 as a Production trainee and after the summer I continued working remotely in the same role alongside school. In summer 2021 I started in my current team and when my studies started in the autumn, I got a permanent contract".
Flexible working and an inspiring atmosphere
Pekka says that the work at Valmet Automotive is flexible and that there is hardly any location-dependency in his job. As a rule, he works remotely from Helsinki and occasionally stops by at the battery plant in Salo.
"Valmet Automotive is the best and most developing employer I have ever had. Continuous growth ensures new challenges where you can develop yourself, and if the challenges seem too difficult, help is always close at hand".
Finally, Pekka sends his greetings to future trainees:
"SEND THE APPLICATION! The opportunity to join the VA trainee program is something you don't want to miss if you want to develop yourself as an employee".
Valmet Automotive is again looking for motivated university students for its locations in Uusikaupunki, Salo, and Turku. As in previous years, the trainees will be offered a fast-paced environment with responsibility, encouragement, and development. Like Pekka, several trainees have stayed at Valmet Automotive after their internship, for example as a student trainee, part-time trainee, or permanent trainee: after the summer of 2021, more than half of the trainees continued working at Valmet Automotive!