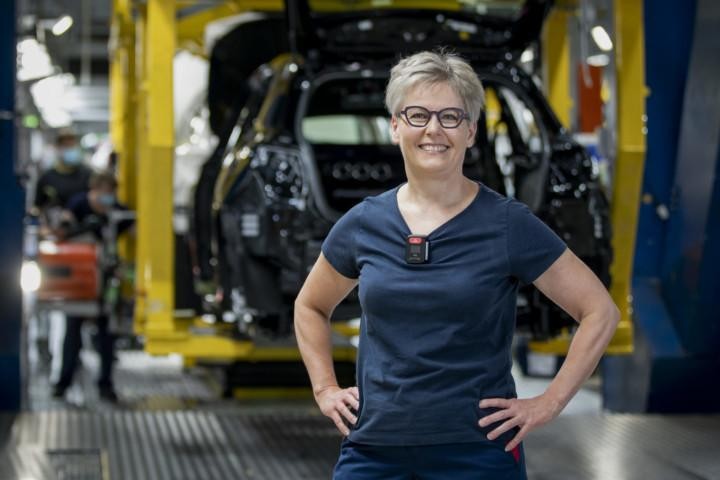 The work at Valmet Automotive is suitable for many. Age, background or gender are not an obstacle to succeed at work. When Päivi Heikola (59) saw Valmet Automotive's job advertisement in December 2016, she thought she could apply for a job if age is not an obstacle. And it wasn't."
Päivi started her work at Valmet Automotive with an open-minded attitude. Her career at Valmet Automotive began on the door pre-assembly line, where she installed handles as well as linings on the right-hand doors. Pretty soon she moved to work as a reporter in the general assembly's body warehouse. Before coming to Valmet Automotive, Päivi had a long career in banking and financial administration. The current job as a reporter requires precision, so it is well suited for Päivi who has been working with numbers.
Valmet Automotive is a large employer in a positive way
A large company has many different roles and career possibilities to offer. When an employee shows skills and motivation, he or she has the possibility to progress to most diverse tasks at Valmet Automotive. The career path of a car builder often leads to tasks of a substitute, a team leader or some other occupation at the plant.
" Valmet Automotive is a large employer in a positive way. Here I feel somehow safe; I have the feeling the company takes care of its own. Here even such an old person got a job and a new opportunity in working life. My team leader and manager genuinely care about me. I can't quite say that this is a family, but at least a really warm community, and it's great to be part of it," Päivi describes Valmet Automotive's work community.
The versatile and varied work motivates
"In my work, I like that there are different situations, and work is not exactly the same routine from day to day. I can work independently and solve problems myself, but I always get help when I need it," says Päivi.
I often hear people say that they believe the work at Valmet Automotive is just the twisting of one and same nut from day to day. Depending on the department and task, the work is done either in a larger team or more independently. Päivi works in a team, but quite independently. You get responsibility at work and you can solve problems.
Päivi recommends everyone to have an open-minded attitude and apply for a job at Valmet Automotive.
"I recommend this as a workplace for just about everyone. You should come and work in this company, because here you can advance your career anywhere. Its' worth having a more open attitude, because here you can change jobs if you want.